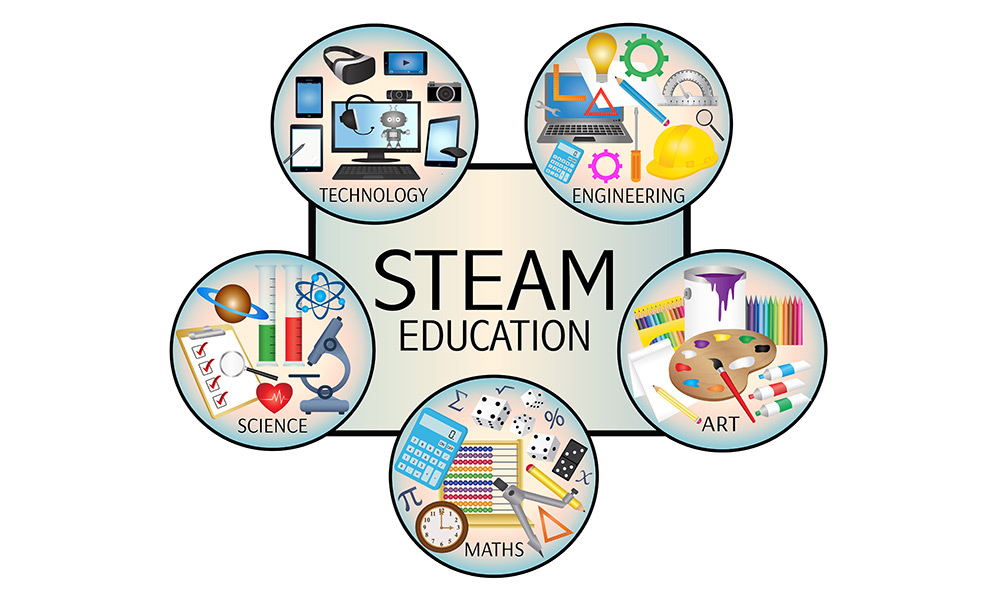 STEAM EDUCATION - WHY INTEGRATE ARTS INTO STEM?
Posted By:
Mantha
0 Comments
The term ART often refers to the disciplines that capture different ways of knowing and experiencing the world. Students can discover this knowledge through language arts, music, literature, visual arts, and some of the social sciences. Integrating the arts into STEM means using one or more of these disciplines to show students how science, math, and technology can affect the world in which they live.
The Case for the Arts
Teachers can integrate STEM and art hand-in-hand to provide students with a well-rounded education. Through art-based experiences, pupils can learn how to use technology with empathy and a citizen mindset to engage with their communities. They also discover that STEM can benefit art. Technology can provide individuals a platform that makes it easier for them to magnify their artistic message and share their work with the world.
Whether or not they define themselves as STEM institutions, most schools successfully combine the arts and humanities with STEM subjects in their curricula. Many STEM schools endorse the arts by offering co-curricular activities.
GSMST (Gwinnett School of Mathematics, Science, and Technology) located in Lawrenceville, GA, exposes students to art experiences. Gwinnett sponsors activities and clubs that promote the arts, some of which they offer as elective classes, such as Literary Magazine. Students can choose to participate in other groups, including Art and Design Club, Tri-M Music Honor Society, and Readers Rally.
Many STEM educators find ways to incorporate artistic expression directly into their lesson plans. Angela Lou teaches biology and other STEM subjects at a Boston arts school. When covering neurological disorders like amnesia or aphasia, Lou has her students engage in mock interviews. Some of the students portray "patients," who display their understanding of a disorder by acting out and describing the symptoms. Other students act as physicians by asking questions and gathering evidence.
STEM vs. STEAM
Some schools take art integration further by advancing STEAM education (A for art). Adding art to STEM programs is intended to supplement the way students engage in dialogue, investigation, and critical thinking. A relatively new educational realm, some teachers refer to STEAM as a "movement." Ohio and other states provide opportunities for schools to apply for either a STEM and STEAM designation.
Research suggests that STEAM has the potential to enhance student learning and teaching effectiveness. Advocates claim that students within a STEAM curriculum tend to welcome collaboration, use creativity to work through problems, and take more contemplative risks. Such an approach can also provide more opportunities to incorporate communication proficiency, intercultural competence, and enhanced observation skills in science-based learning experiences.
The STEAM movement does have its critics. As a term or label, art can be ambiguous and vague, contributing to misunderstandings or inconsistencies in how educators approach its application. Also, there is a need for more empirical evidence that teaching art directly impacts comprehension of STEM and other subjects. Other critics argue that schools incorporating art into STEM might eventually cut separate art classes or activities, claiming that other courses already include art-based topics.
Despite its limitations, art-based learning has the potential to engage more students in math and science. Teachers and students can also apply STEM subjects to the study of art. Whether art supplements STEM education or is embedded into the curriculum as a whole (i.e. STEAM), art can add creativity and empathy to how students learn STEM. Furthermore, it can make science and technology accessible to more diverse learners and educators.