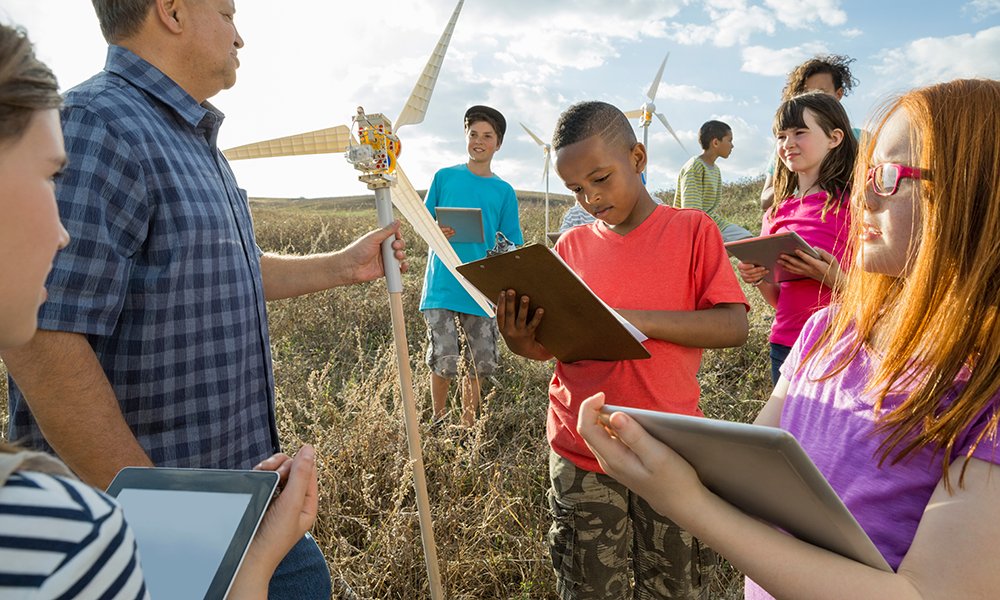 ONSITE AND VIRTUAL FIELD TRIPS ADD VALUE TO STEM EDUCATION
Posted By:
Admin
0 Comments
One of the best ways to increase students' interest in a subject is to participate in it. Direct experience with a STEM topic often comes from an onsite or virtual field trip, taking concepts out of the classroom and into the real world.
Fields Trips and Their Benefits
Most field trips serve as excursions that allow students to interact with models and processes that demonstrate concepts they're learning in class. Educators typically facilitate field trips for one or more reasons:
Give students direct experience with a subject
Stimulate continued interest in a topic
Make a subject more relevant to students' everyday lives
Enhance students' observational and analytical skills
Promote social skills as learners interact with experts
Field trips provide greater access to tools and settings that most kids can't get in a traditional classroom. Suppose students want to learn more about aerospace engineers. In that case, they might meet with a NASA engineer and ask her questions about her job. Such engagements expose students to real-life situations and possibly encourage them to visualize themselves in STEM occupations.
Experiential learning that comes from field trips increases students' STEM knowledge and motivation to pursue additional learning opportunities. Field trips also enhance learners' interest in science and math topics, regardless of prior engagement. Students are also more likely to feel more positively toward science and recall field trip experiences long after exposure.
Making the Most of Field Trips
Despite their benefits to STEM learning, field trips can present potential problems. Some museum displays might be flashy or too watered down, obfuscating the knowledge and intent behind them. Also, students might learn about the outcomes of scientific discovery without understanding the ethical or methodological difficulties inherent in the scientific process.
With the proper preparation, teachers can circumvent some of the pitfalls above and help students get the most out of their field trips. Here are some steps educators can take before, during, and after an excursion:
Become familiar with the field trip setting.
Give students a schedule in advance, including expectations and learning objectives.
Engage students in pre-visit lessons or activities to orient them to the upcoming experience.
Ensure there is an activity during the visit; also allow time for students' individual or group exploration.
Debrief students after the field trip to reinforce learning.
What follows are examples of onsite and virtual field trips that expose students to various STEM topics.
Aerospace and Aviation
Students can take part in a field trip through the National STEM Academy of the Museum of Aviation. This excursion teaches about various aspects of flight. It's available to traditional and homeschool students, Boy and Girl Scout troops, and other groups from pre-kindergarten through high school.
Students who can't get to an actual museum or space center can participate in Nickelodeon's Slime in Space. This short virtual field trip shows learners how their trademark slime behaves in the zero-gravity environment of the International Space Station.
Computer Science and Technology
Learners interested in computers can virtually visit the National Museum of Computing, which holds the world's most extensive collection of historic computers. Self-paced and guided expert-led tours acquaint students with the origins and development of modern computing.
The Stanley Black & Decker Makerspace helps students see how math, science, and technology fuel inventions. When they get a chance to work alongside technology experts, learners can picture themselves as the next generation of innovators.
Physics and Design
According to the Roller Skating Association International, roller rinks present an excellent opportunity to teach about motion, physics, and engineering. Amusement parks are another type of venue where students can see physics in action. The Annenberg Foundation sponsors Amusement Park Physics, a virtual field trip that teaches pupils physics concepts like the laws of motion and the concept of "weightlessness."
Earth Science and Conservation
Being geographically close to an iFLY indoor skydiving center presents opportunities to learn about wind. Students can visit an iFLY location and study the effects of vertical wind tunnels and see other STEM demonstrations.
Students interested in ecosystems and conservation can virtually visit the Internet of Things. Through this exhibit, students can see how smart speakers, sensors, and other computing devices can help conserve natural resources and make communities ecologically sustainable.
Also Read:
Legos and Legoland Make STEM More Fun with Play based Learning
Engaging Children in STEM through Video Games
Importance of STEM Education in Elementary Schools
NASA Engineer Diana Trujillo Advocates for Women of Color in STEM