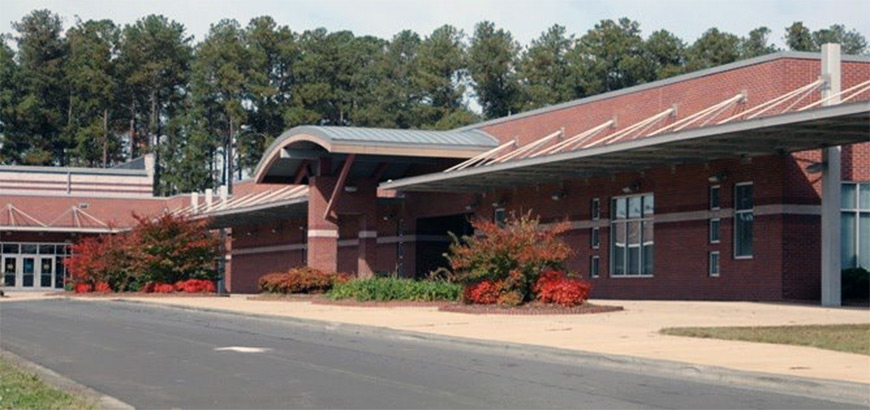 BUTNER STEM MIDDLE SCHOOL
Butner STEM Middle School (BSMS), located in Butner, NC, opened its doors in 1998. BSMS serves approximately 500 students from four communities in northern North Carolina. Butner teaches grades six through eight and employs over 50 teachers and staff.
The mission of Butner STEM is to prepare students with academic proficiencies and social skills to succeed in their future studies and thrive in a global environment. Butner implements rigorous coursework in math and science to supplement the state-mandated Standard Course of Study. Students in all middle school grade level learn math and science concepts in an organized structure that encourages them to engage in real-world problem-solving. This middle school's STEM curriculum emphasizes both comprehension and procedural skills to equip students for learning at higher grade levels and beyond.
Butner employs a STEAM (A for arts) coach who ensures that students' learning reflects the integration of liberal arts and social sciences into STEM course content areas. In encouraging their intellectual development, Butner charges their faculty to help foster students' individual abilities. According to the school SOAR motto, students pride themselves on being "Safety-conscious, Open-minded, always prepared, Respectful, and Responsible."
Butner STEM Middle School offers many clubs to supplement students' academic experiences, many of which emphasize STEM-based learning. Students rank-order up to five clubs that interest them at the beginning of each year and get assigned to two. Pupils with STEM-based interests can choose among such Clubs as Computer Doodle, Scratch Programming, STEM, Reflex Math, Environmental Recycling, and Sports Medicine. All Clubs meet on early release days, during which students meet with their clubs instead of attending regular classes.