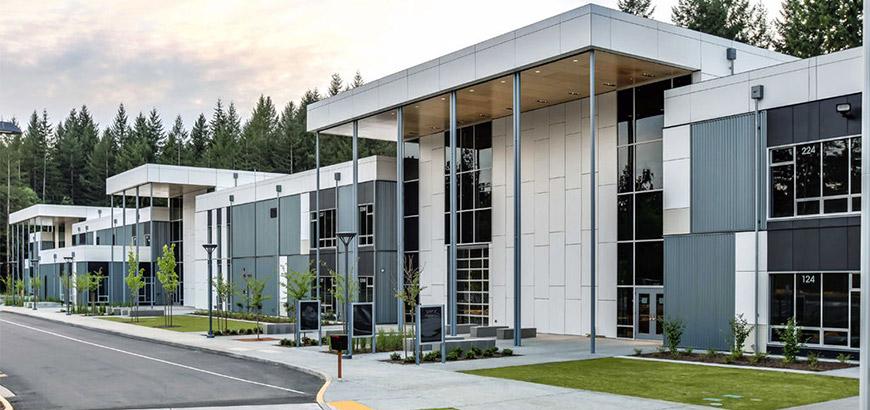 TESLA STEM HIGH SCHOOL
Tesla STEM High School, located in Redmond, WA, is a public choice school that uses a lottery-style enrollment system. This high school's curriculum uses problem-based learning (PBL) and incorporates technology and engineering principles into coursework at all grade levels. Students enroll in an average of four math and six science courses before graduation. The school integrates STEM-based classes with other subjects, such as social sciences, business, world language, and law.
Tesla STEM leverages its industry and educational partnerships to provide high school students with internships in STEM-related fields. Tesla STEM High School's external partners include the University of Washington, Microsoft, Washington State Patrol Crime Lab, Terex Corporation, University of Texas, Austin, and many others.
Students engage in a rigorous program in which they conduct original research, present their projects in classes, and participate in interscholastic competitions. Pupils either study in a STEM Lab Concentration (SLC) or one of two STEM pathways during their junior and senior years. Juniors in the SLCs receive instruction in Forensics & Psychology and Environmental Science & Sustainable Design. The seniors' SLCs include Advanced Physics & Global Engineering and Advanced Biomedical STEM Lab.
Students in the STEM pathways choose either engineering or computer science as a concentration. In the Engineering Pathway, learners apply design processes in their coursework that adhere to industry standards. The Computer Science Pathway includes a four-year schedule of Advanced Placement courses. Both SLCs and STEM pathways utilize the National Academy of Engineering's Grand Challenges for Engineering instructional principles.
The 2021 senior graduating class at Tesla STEM High School size is 141, and the school boasts several National Merit and National AP Scholars. Students have won numerous awards at various academic competitions, including a fourth-place finish at the 2020 MIT Science Bowl.